Harbingers Of Infrastructure
Vraj Profile
Since 1995, Vraj Infra is delivering excellence and trust. We possess the quality of never looking back. After completing 28 years in this field, Vraj infra would like to carry forward to upcoming years , by delivering as many marvelous Infrastructure as we can!
Mission
Our mission is to build places where future progresses, which includes residential projects, commercial projects, industrial projects, government projects. We want progress not just for us, but for everyone with whom we are connected. We want to build fruitful & long term relations with our associates, customers. Vraj Infra is all about taking a step ahead
Key motives
To Become A Real Estate Giant By Offering & Delivering Abundant Dream Spaces As Well As Evolving World-Class Estate Concepts. We Also Focus On Providing Top Level Amenities In Each of our Projects. We Want Deliver A Space Which Focuses On Growth And Comfort Of Every Individual.
Innovative Design, Unmatched Residential Comfort.
Residential Project
At Vraj Infra, You Will Find Residential Projects With Top-Notch Amenities. Vraj Infra Believes In Providing Designer,
Elegant Looking Homes To Our Clients. We Believe That A Home Shoukd Be Both – A Comfort Space
As Well As A Style Statement.
Commercial Marvels, Where Opportunities Abound.
Commercial Project
Vraj Infra'S Commercial Projects Are One Of The Stepping Stone Towards Success. By Providing Commercial Projects,
Vraj Infra Promotes The Hard Work And Efforts Taken Towards Progress. With Vraj, You Can Grow Ahead.
Powering Industries, Building the Future.
Industrial Project
Vraj Industrial Projects Are For Risk-Takers. Our Oorja Series Of Industrial Projects Is One Of The Best Example Of Promoting Growth By Being Together. Vraj Infra Encourages The
Businessmen, Who Work With Us.
Government Projects, Fueling Progress and Prosperity.
Government Project
Vraj Infra'S Portfolio Is Not Just Limited To Residential, Commercial Or Industrial Projects,
But We Also Have Expanded Our Boundaries By Working With The Government, In The Building Their Projects.
Residential open plotting projects
Vraj Infrastructure has always aimed to work efficiently. We introduce you to the open plotting projects by us, where you can build a place of your own, just in the way you want. Our open plotting projects will help you to give a piece of open land, in a calm surrounding where you can relax. Vraj Infra gives you a space for your dreams to spread their wings and fly.


Industrial Projects
After achieving a great response in residential projects and commercial projects, Vraj Infra came out with industrial projects like Oorja industrial 1. After completion of Oorja phase 1, Vraj Infra want to provide affordable industrial parks with facilities of electricity, water, a work friendly atmosphere to promote the inner and industrial growth of our customers who have put their faith on us. We dream to grow individually but by being together!!
Architecture with people in mind. We are delivering high quality, effective and inspiring space.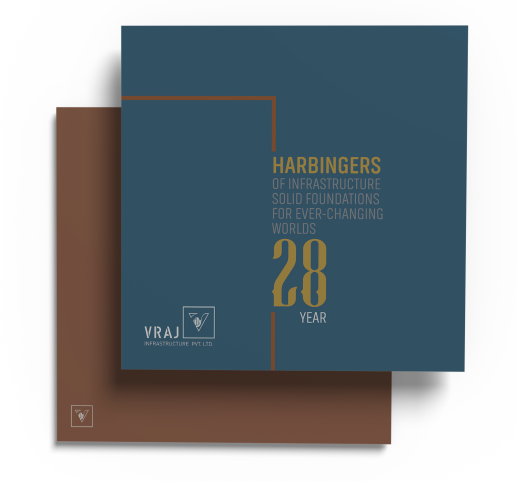 Get to know about us through
Vraj Infra's virtual business profile
We value your feedback and inquiries. Feel free to reach out to us through our contact information provided below. We are here to assist you and provide the support you need.